Shopping Cart
Your Cart is Empty
Thank you for your business!
You should be receiving an order confirmation from Paypal shortly.
Exit Shopping Cart
NAILE, Midwest International in Louisville, November, 2012
Well, certainly can't complain about results in Louisville. Larry and I were in Hawaii, so Skyler took 6 of my animals down to Louisville for the return of the Highlands to NAILE. We came out alright too.
Hedy managed to preserve her position as Intermediate Yearling Heifer Champion, and Uganda managed to bring home one of the spectacular Reserve Grand Champion Sashes as Cow with calf LEA Iram, who also took a division Reserve Championship as Junior Bull calf.
Skye High Uganda wins Reserve Grand Cow with Calf (LEA Iram)
Hedy in the Grand Champion Line-up
The Grand and Reserve Grand Sashes were truly magnificent. I am particularly proud because I came up with the logos for both the International Show (lower logo) and the Midwest Highland Cattle Association,(upper logo) both of which were featured on all the sashes (and the classes ribbons.) Granted, Photoshop did most of the work, but special thanks to Rebel and Elektra, who served as my models.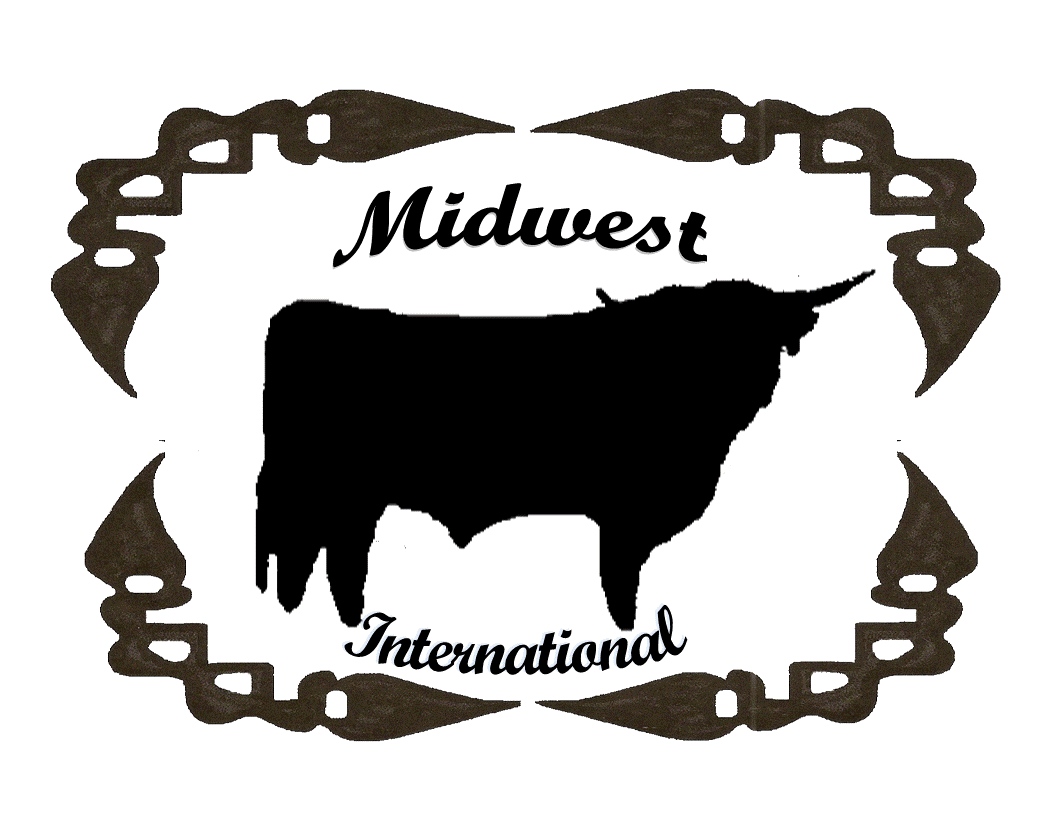 Iram in the Reserve Grand Champion Bull line-up.
Centreville, September, 2012
We had a really good show at the St. Joseph County Grange Fair (Centreville) this year. We had a tremendous string of Rebel daughters; Grady took Division Champion 2 year old Heifer and Reserve Grand, Grusha took a first in her 2 year old class, and Hedy was not only Division Champion Intermediate Yearling Heifer, but was put up as overall Grand Champion Heifer.
Grady being shown at NAILE, where she took a disappointing 3rd in her class.She was however, the Reserve Grand Champion Heifer at Centreville.
Grusha out on pasture, but looking good despite a bad hair day.
Hedy posed as Grand Champion Heifer.
Sale entries for the National Western Stock Show 2012
It turned out to be another exciting year for LEA-White Farms at the National Western. I didn't think that we could approach our success at last year's sale, but we managed.
Gytha attracted a lot of attention from the judges. She was paired with a 2011 calf for the Jackpot classes Thursday night, and the Judge loved her; pointing out she was the reason the pair took a second over a number of other worthy pairs. In the open show on Friday, she had some stiff competition in her own class, placing 2nd to a big July heifer almost 60 days older than her. She then entered the division championship against the winners of a big class of May heifers, and walked home with Reserve.
Many thanks to the Crawford Family, of Kiowa, Colorado for their purchase of this excellent show and brood cow prospect. Apple's Acres will be her new home, and she will be joining another Michigan-bred heifer, Skye High X-Mas Gold, purchased by the Crawfords in the 2011 Annual Highland Sale last year.
Gethin was our surprise sale entry: she did extremely well in the show, taking home a blue ribbon in her class, and I was a little nervous when they put her in the auction as the first female entry. But the bidding took off, and she ended up being the high-selling female.
Firefly, likewise, was a pleasant surprise. The bidding was pretty intense and actually had to be opened up between 2 bidders because of some confusion, but she went for 2nd high-selling female. Both Gethin and Firefly were purchased by Apricot Lane Farms in California, and were delivered to their new green home along with Apricot Lanes other purchase in the auction, the Grand Champion Highland Bull, Twinflower Wesley. Much thanks to John Chester (who took the photo of Firefly and Gethin in their new home) and Apricot Lane Farms.
Setting up the animals perfectly, Evan, Jake and Skyler are all concentration.
Jake sets up Gytha in front after winning 2nd Best Pair of Heifers. Haven is b
Gytha winning reserve intermediate yearling heifer in a big division. Now, if only I can edit out myself. Didn't expect to be photographed, and would have worn black if I had known.
Evan leading Haven out of the ring with a blue ribbon in her class.
The lineup for Reserve Grand Champion Female, with Evan diligently setting up Gytha in the middle of the photo.
The two sets of heifers in Best Two Heifer Class. Evan and Jake have Haven and Gytha, while Derek is holding Fancy and Firefly as Skyler sets them up. I was surprised that the younger pair placed better than the older pair, but the Judge loved Gytha.
One of the most exciting wins was HSC Rebel's Jack getting Reserve Grand Champion Bull for Cobblestone Farm in Troy Wisconsin. We sold LEA Crackerjack as a bred heifer back in 2009 at the Annual Sale. She produced Rebel's Jack that spring. Colin Demuth, of Husker Show Highlands brought Rebel's Jack back last year where he won Jr. Yearling Bull Champion. He tied for High-selling bull in that auction (2011) to Cobblestone Farm. They returned with him this year, to be awarded Reserve Grand. He looks just like his sire (Sunset Rebel Yell) only Rebel's Jack is a bigger framed bull.
Our youngest entry in the annual Highland Sale was LEA Gytha. She is a late summer yearling, and is proving herself to be a great doing female on our pasture based system. She tips the scales 100 pounds heavier than her contemporaries. This is despite the fact that Gytha, as a late summer calf, never has had any grain other than as a bribe. She has put on all her weight strictly on a grass diet. Her dam is LEA Zenith, an Impact Dam: her maternal grand dam is LEA Ovation, an Elite Impact Dam whose sire is an Impact Sire. Then we get to her sire; the tremendous Canadian-bred and shown Sunset Rebel Yell. Rebel had an incomparable show career in Canada for the 3 years prior to our purchase of him (right as the US border opened up in 2008 after being closed for so many years.)
Gytha is a naturally deep bodied, correct heifer with great breed character. We would imagine she will go on to prove herself in the show ring or the cow herd, or both.
This pretty dun heifer comes out of a working cow line; her dam, LEA Bailey, will be awarded Impact Dam status this year and she sports both a Paternal and Maternal grand sire that qualify for Impact status as well. LEA Gethin is a quiet, calm heifer with great depth and width of body, overall structural correctness and great potential as a brood cow. Like all our show cattle, she comes off the farm fed in the exact same manner as the rest of our cow herd; no show rations allowed. Our cattle are on forage alone after their first winter as calves (that is, if they are spring born- our late summer and fall born calves go out on pasture immediately after weaning with no need for grain to balance a winter diet.) We expect her to be a valuable addition to the herd.
This tremendous 2 year old heifer is our most exciting entry in the sale. LEA Firefly comes with an impressive family tree: her father is the great Canadian-bred sire and show bull Sunset Rebel Yell. Her dam is every bit as impressive as her father; LEA Yellow Jacket had a successful, albeit very local, show career of her own, winning Cow/calf honors at the only venue at which she was ever shown. She was awarded Elite Impact Dam status with her 4th calf and she also is the mother of 2 top selling heifers for LEA-White Farms at the NWSS Highland Auction previous years. In 2009, her daughter LEA Crackerjack sold as a bred heifer. 2 years later the calf she carried returned to the NWSS to receive top honors as the Jr. Yearling Champion Bull. That same bull, HSC Rebel's Jack, has been shown extensively this past year and is in the running for ROE Show Bull of the Year for 2011. LEA Yellow Jacket is also the dam of LEA Elke, high selling Highland (male or female) at the NWSS Highland Auction last year. This makes Firefly maternal ½ sister to 2 outstanding females and a paternal ½ sister to a multiple Grand Champion Bull.
She is carrying a calf sired by LEA Flint, a promising young herd sire at LEA-White Farms. Flint comes with his own impressive credentials. The top side of his pedigree goes straight back to the outstanding sire and Champion many times over DH White Gold. A paternal grand dam is sired by Quiet Meadows Lightening, the influential Midwestern star combining the performance power from the famous GOF bloodlines with the showstopping strength of the west coast's Hannegan lines. Flint's maternal pedigree has to be seen on paper: 6 out 7 animals on the bottom half of that pedigree have attained Impact or Elite status
Firefly herself is a thick, deep and wide female with heavy bone and tons of breed character. She's straight and correct, with plenty of femininity to pass around. We expect her to be a mother of champions and a prepotent foundation dam.
Excellent heifers for sale.
Got some new photos posted with links to pedigrees. Take a look at Cattle for Sale
LEA-White Farms
1680 W. Santee Highway
Charlotte, MI 48837
517-543-7979
Honesty and integrity still mean
something here at LEA-White Farms
We have over 25 years experience.
We automatically include a breeding
guarantee on all our registered stock.
We can offer advise on virtually
any Highland cattle concern,
from fencing and feeding,
to selection and veterinary care.
Most importantly, we sell
good cattle and we back them up.
American Highland Cattle
Association
Midwest Highland Cattle
Association
Canadian Highland Cattle Society
American Veterinary Medical
Association
/